ROJECT QUALITY CONTROL
At Redland, we strive towards ensuring customer satisfaction by pursuing the level of standard quality, meeting the requested timelines as well as providing the deliverables within the agreed budget. We constantly support our staff to do the best work ever possible. We persistently search for better alternative to improve our quality of work and meet the international standards. We have allotted a significant amount of money to the Quality control purpose. Redland Company has studied the competitive market, and proudly accounts for the extraordinary QCM system that assures success in this regard. The managers at Redland are instructed to strictly follow the QCM system, while further enhancing our understanding of Quality Management and bringing constant improvements to the current QCM system.
<![if !supportLists]>A. <![endif]><![if !vml]>

<![endif]> Quality Control Process – Design Work
Our design QC process complies with USACE and ISO standards. Our Contract Quality Control (CQC) Design Manager, oversees program quality and ensures compliant entries in the USACE Quality Control System (QCS). He coordinates drawing submittals with Design QC Manager
<![if !supportLists]> B. <![endif]><![if !vml]>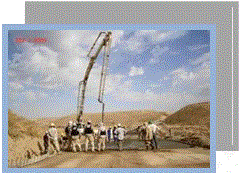 <![endif]>Quality Control Process – Construction Work
Our construction QC process complies with USACE and ISO standards. Our Site QC director, Mr. Behzad Nazari, carries out quality assurance (QA) and quality control (QC) activities from site and Office, including oversight of Man power performance, quality of received materials, and all construction testing and inspection.
Our team quickly and efficiently resolves changes and delays, expedites required submittals, conducts efficient meetings, and controls costs and schedules.